Pre-schoolers 3.5yrs to Prep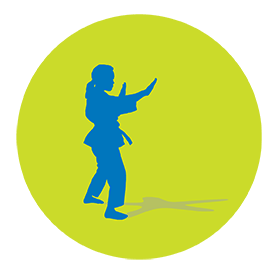 Martial Journey Micro Ninjas
self-defence for pre-schoolers
Martial Journey Micro Ninjas
self-defence for pre-schoolers
Martial Journey Micro Ninjas
self-defence for pre-schoolers
Martial Journey Micro Ninjas
self-defence for pre-schoolers
Play-based learning
Reflex & co-ordination
School-ready
In our Micro Ninja classes, we aim to stretch the attention span of our students through structured play where they need to listen and cooperate. They learn basic self-defence, such as: falling safely, guard positions, getting out of the way, using their voice, and basic striking techniques. We finish each class with storytime that challenges them to consider right and wrong behaviors.
Our Micro Ninjas are graded within the class environment, earning stripes on their belts to mark their progression.
MICRO NINJAS class times



TUE | 4:15pm to 4:45pm
SAT | 10:15am to 10:45am
SAT | 11:00am to 11:30am



Micro Ninjas introduction sessions are held on Friday evenings. BOOKINGS

ESSENTIAL.



Register your interest by completing our Intro Trial form and we will be in touch shortly with more info & next steps.

Download a PDF of

our full class schedu

le

.
Micro Ninjas Introductory Trial
"My son loves the lessons. There's a great sense of family. The training sessions are well structured and very practical. All the staff and students are really helpful and kind."
C. Morison